There is something about this picture that emits a rather sombre mood, don't you feel so?
Personally, shooting in the shadows is awesome. Why? Simply because it can't capture the facial expression. Quite ironic to say so, as facial expressions are quite crucial for portraits. But I do feel, body movements and posture are just important to make a picture great. I think the pictures in this set is a form of creative photography. What do you think? 😉
Rag Dolls Attempt by myself and Kim. (One of my favourite pics!)
Again, I'll say that this impromptu shoot has been pure fun for myself and Kim. I'll be honest and say that I find myself getting conscious whenever I'm in a photoshoot. Somehow, I always imagined the picture would turn out ugly. Hence, the lack of confidence would show in the pictures too. 🙁 But for this shoot, screw my expression cause you can't see my face. Hahaa.
Left: Posing Attempt Right: Hourglass figure!
I managed to drag my sis, Clarrisha for a few pictures as well. So happens, she was wearing a bodysuit. Hence, you get a model with curves! LOL. Unlike, my shots with Kim, since we were both wearing dresses.
Posing Attempt Part 2.
Oh, yes. We even managed to drag my brother into doing this mini shadow photoshoot. We asked him to give a pose, and these were what he thought of doing. 🙂 Superhero? Hahaa.
* * * * * * * * *
I haven't seen the hyperactive Kimberly Hong since like February this year and even then, she wasn't hyper. Possibly because we were in the public area and she'll be sure to get stares if she starts screaming away. Hahaa, So, pictures below were multiple silly shots taken at one go. Note: They look absolutely silly and I'm amazed I'm even posting this up. 🙂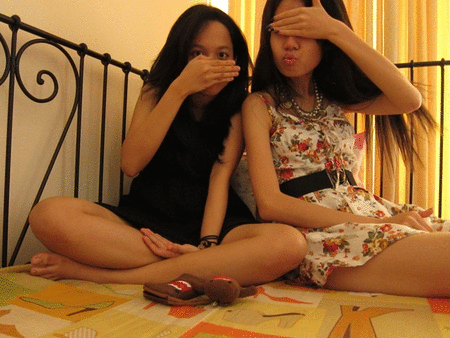 * * * * * * * * *
That's all for now, loves. I've been a little busy lately with an upcoming test. Usually, these tests are no biggie but since I'm currently in the Professional Stage of ICAEW, I should be taking them seriously. Plus, they are in written form questions. And very different from the CFAB multiple choice questions! But I believe that, against all odds, I can do it. Because nothing is impossible. BUT I'M FREAKING OUT NOW. Simply, because I have no mood to study. :O